.
Titan Energy Development Delivers Sentry 5000 Mobile Utility System To NextEnergy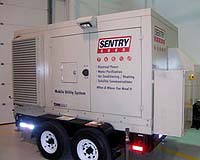 The unit, which can be towed by an SUV, can provide heat and cooling, satellite communications, lighting and additional power and water purification. Currently, the machines, called Sentry 5000, run on diesel fuel, but Titan is working to convert the power source to solar cells and synthetic fuels that can be produced from on-site trash, food waste and tires.

by Staff Writers
San Diego (SPX) Aug 01, 2007
Titan Energy Worldwide has announced that its subsidiary, Titan Energy Development, Inc., delivered a Sentry 5000 mobile utility unit to be utilized in a Department of Defense (DoD) program awarded to NextEnergy, called the Advanced Mobile MicroGrid system. The project, seeded with a Department of Defense grant, will allow government agencies and other entities to easily deploy mobile power control and conditioning assets capable of managing up to 1.5 MW of power to any location in the world within 48 hours. Other participants in this program include the (NAC) National Automotive Center, which is part of (TARDEC) the Tank/Automotive Research, Development and Engineering Center.

The Advanced Mobile MicroGrid harnesses power from conventional generating sources as well as wind, solar photovoltaic, vehicles with exportable power capabilities, fuel cells and other sources, for distribution across a select geographic area. In the wake of a natural disaster, it enables essential human services requiring power. In addition to the ability to provide relief as an emergency power source during natural disasters, the MicroGrid can also offer assistance in the aftermath of a homeland security incident and support deployed military operations.

Titan Energy Development, Inc., the manufacturer of the Sentry 5000 mobile utility system, provided a unit to be integrated into the Advanced Mobile MicroGrid program. The Sentry 5000 provides 60Kw of electricity, heating and cooling, water purification, compressed air, satellite hand held phone system and perimeter lighting.

Thomas Black, President of Titan Energy Development, Inc., said, "As the United States military continues to evolve into more peace keeping and security roles, the Sentry 5000 is a perfect fit. In areas that lack reliable local utilities, especially overseas, the Sentry 5000 will provide a bundled set of utilities that are simple to use and rapidly deployed into the field."

Max Dorflinger, Senior Manager of Operations for NextEnergy, stated, "We are pleased that Titan and its Sentry 5000 are part of this exciting program. The Sentry 5000 will act as a primary input to the Electronic Power Conditioning and Control (EPCC) module part of the Advanced Mobile MicroGrid. Besides being one of many input power sources to the EPCC, the Sentry 5000 will provide critical utilities to the deployment such as air conditioning, lighting and purified water."

Community
Email This Article
Comment On This Article

Related Links
NextEnergy
Titan Energy Worldwide

Stellar Energy Services Powering The World in the 21st Century at Energy-Daily.com






Nanotechnology Helps Scientists Make Bendy Sensors For Hydrogen Vehicles

Argonne IL (SPX) Aug 01, 2007

In recent years, Americans have been intrigued by the promise of hydrogen-powered vehicles. But experts have judged that several technology problems must be resolved before they are more than a novelty. Recently, scientists at the U.S. Department of Energy's Argonne National Laboratory have used their insights into nanomaterials to create bendy hydrogen sensors, which are at the heart of hydrogen fuel cells used in hydrogen vehicles.

.