Russia Ratifies Deals On ITER Research Reactor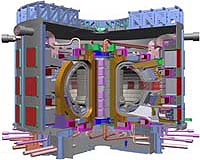 The first thermonuclear reactor is expected to be built by 2016.
by Staff Writers

Moscow, Russia (RIA Novosti) Jun 28, 2007

Russia's lower house of parliament ratified Wednesday two agreements regulating the ITER project, an experimental reactor in France being built with Russia's involvement, aimed at eventually generating power by nuclear fusion. Under the document now ratified by the State Duma, which was first signed in Paris on November 21, 2006, Russia, South Korea, China, Japan, India, the European Union and the United States agree to fund the construction of the International Thermonuclear Experimental Reactor (ITER).

The agreement provides immunity and privileges for the organization overseeing the international project's joint implementation.

The $10 billion project to build the reactor in Cadarache near Marseilles in south France is designed to demonstrate the scientific and technological potential of nuclear fusion amid concerns over growing energy consumption and the impact of conventional fossil fuels on the environment.

The first thermonuclear reactor is expected to be built by 2016. The European Union will cover 40% of the costs and the other participants will contribute 10% each.
Email This Article
Related Links
International Thermonuclear Experimental Reactor (ITER)
Civil Nuclear Energy Science, Technology and News
Powering The World in the 21st Century at Energy-Daily.com





Baltic And Polish Premiers To To Build A New Nuclear Power Plant

Vilnius (SPX) Jun 27, 2007

The prime ministers of Estonia, Latvia, Lithuania and Poland are to sign a joint declaration on building a new nuclear power plant in Lithuania, the spokeswoman for Lithuania's premier said on Tuesday. "Premier Gediminas Kirkilas discussed the declaration with Latvian head of government Aigars Kalvitis and Estonia's Andrus Ansip during the recent EU summit in Brussels," the spokeswoman Nemira Pumprickaite told AFP.