Quake-hit Japan delays planned power cuts

by Staff Writers

Tokyo (AFP) March 14, 2011

Japan on Monday delayed planned power cuts, an unprecedented measure that came after the devastating earthquake and tsunami which crippled nuclear power plants in the northeast.

Tokyo Electric Power (TEPCO) had originally planned to begin the cuts at 6:20 am (2120 GMT), but has decided to delay them at least until around 10:00 am, Jiji Press and national broadcaster NHK said.

Prime Minister Naoto Kan said Sunday he had authorised the blackouts to prevent any sudden major supply disruption, as power supply has significantly fallen since the disaster hit power plants on Friday.
Share This Article With Planet Earth
Related Links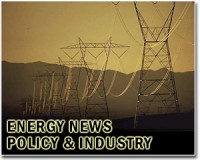 Former Dutch minister to head IEA
Paris (UPI) Mar 11, 2011

Former Dutch Economy Minister Maria van der Hoeven will become the new head of the International Energy Agency, the group said Friday. Van der Hoeven, 61, will take over from Nobuo Tanaka when Tanaka steps down at the end of August. The IEA, which has headquarters in Paris, advises 28 industrialized countries on energy security - just as the issue is taking up steam again. After ... read more