.
Italy, Greece, Turkey Sign Gas Pipeline Deal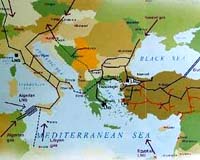 Map of the route of the natural gas pipeline.

by Staff Writers
Rome (RIA Novosti) Jul 27, 2007
Italy, Turkey, and Greece have signed an agreement to build a pipeline to bring natural gas from the Caspian and the Middle East to European markets, Italy's Edison gas company said Thursday. "The gas pipeline will go into operation in 2012. It will help diversify gas supply sources, while promoting competition," a company spokesman said, adding that it is of strategic importance.

The agreement comes after months of negotiations on shipping natural gas from the Caucasus to Western Europe through Turkey and Greece.

The Turkish-Greek section is expected to begin operating in late August, while construction on the Greek-Italian link, owned by Italy's Edison and Greece's DEPA, should begin next year.

The pipeline will include a 212-kilometer undersea connector from Greece to Italy, worth an estimated 300 million euros, and should carry some 11 billion cubic meters of gas a year to Greece.

Community
Email This Article
Comment On This Article

Related Links
the missing link Powering The World in the 21st Century at Energy-Daily.com






EU Backs Cutting Duties On Chinese Light-Bulbs

Brussels (AFP) Jul 26, 2007

The European Union gave initial backing Thursday to a plan to drop anti-dumping duties on energy saving Chinese-made light bulbs despite a German push for their renewal, a European Commission spokesman said. During talks in Brussels, a majority of trade experts from the EU's 27 members approved a Commission proposal to dump the six-year-old duties, which run as high as 60 percent and expire in mid October if not renewed.

.