Crude oil plunges below $100 in New York

by Staff Writers

New York (AFP) May 5, 2011

Crude oil prices plunged Thursday, with the WTI futures contract sliding below $100 a barrel in New York, after disappointing US economic indicators and a stronger dollar.

New York's main contract, light sweet crude for June, plummeted $9.17 to $100.07 around 1815 GMT, minutes before the end of trading on the New York Mercantile Exchange.

Earlier it had fallen as low as $99.70 a barrel, below the $100 threshold for the first time since mid-March, when Arab unrest and the Japan earthquake and tsunami disaster sent prices spiking.
Share This Article With Planet Earth
Related Links
Powering The World in the 21st Century at Energy-Daily.com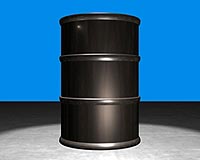 Strong dollar, weak data send oil prices plunging
New York (AFP) May 5, 2011

Crude oil prices plunged Thursday, dragging New York's main contract below $100 a barrel for the first time since March 16, after disappointing US jobs data and the dollar's rise spurred demand fears. New York's main contract, West Texas Intermediate light sweet crude for June, closed at $99.80 a barrel, down $9.44, or 8.6 percent, from Wednesday. The WTI contract continued to fall after ... read more