US BioEnergy Begins Commercial Production At Albert City And Central City Ethanol Plants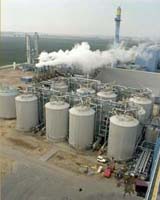 File photo of an ethanol plant.
by Staff Writers

St. Paul MN (SPX) Jan 23, 2007

US BioEnergy has announced that its Albert City and Central City ethanol plants began operations in late November and have transitioned to commercial production. With these plants in commercial production, US BioEnergy is the largest pure-play ethanol producer in the United States. US Bio Albert City is a new facility located near Albert City, Iowa and US Bio Platte Valley is a newly expanded facility in Central City, Nebraska.

Each facility is expected to produce approximately 100 million gallons of ethanol per year, 320,000 tons of distillers grains per year and employ about 45 people.

"This is an important milestone for our company and to the revitalization of the American heartland," said Gordon Ommen, CEO and chairman. "It's the spirit and dedication of the American farmer that's making this possible."
Community
Email This Article
Comment On This Article
Related Links
Civil Nuclear Energy Science, Technology and News
Powering The World in the 21st Century at Energy-Daily.com
Our Polluted World and Cleaning It Up
China News From SinoDaily.com
Global Trade News
The Economy
All About Solar Energy at SolarDaily.com
Powering The World in the 21st Century at Energy-Daily.com

B-52 Undergoes Synthetic-Fuel Cold Weather Testing At Minot

Minot AFB (SPX) Jan 23, 2007

A B-52 Stratofortess powered by a mix of synthetic fuel arrived here Jan. 17 for cold-weather testing, the last step in the testing and certification process to help reduce Air Force dependence on imported fuel. The aircraft, permanently assigned to the 5th Bomb Wing here, will undergo ground testing today through the beginning of February to determine how well the synthetic fuel, made from a 50-50 blend of traditional crude oil-based fuel and a Fischer-Tropsch fuel derived from natural gas, performs in extreme weather conditions.