Russia-Georgia Gas Pipeline In Mountains To Be Highest In World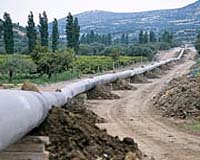 The pipeline will reach an altitude of 3,150 meters [10,300 ft].
by Staff Writers

Vladikavkaz, Russia (RIA Novosti) Jun 29, 2007

A natural gas pipeline being built in the Caucasus mountains linking Russia and Georgia will gain the honor of being the world's highest pipeline, the project chief said Thursday. The high-altitude pipeline will link Russia and South Ossetia, a secessionist republic in Georgia, and is expected to end the region's gas dependence on Tbilisi.

"The pipeline will be laid at an altitude of 3,150 meters [10,300 ft]. This is the world's highest pipeline: there is nothing like it, including in terms of route complexity. We are now preparing documents to apply to Guinness World Records," Anatoly Tandelov said.

The 163-kilometer (101-mile) pipeline will connect the Georgian province with Russia's North Ossetia, with which it is ethnically and historically tied. Russia is expected to start supplying the self-proclaimed republic with natural gas in late 2007 or 2008.
Community
Email This Article
Comment On This Article
Related Links
Powering The World in the 21st Century at Energy-Daily.com

Iraq Needs 75 Billion Dollars To Develop Oil Industry

Beirut (RIA Novosti) Jun 29, 2007

Iraq will need $75 billion to develop its oil sector, three times more than was originally thought, a government expert said Thursday. Iraq intends to boost oil production to 6 million barrels per day, but is currently producing only 2 million barrels per day due to ongoing terrorist attacks.