Fairchild Semiconductor Selects Pune, India For Research And Development Center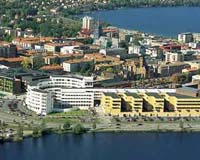 The university of Pune in the City of Pune, India.
by Staff Writers

San Jose CA (SPX) Feb 07, 2008

Fairchild Semiconductor has opened a design center in Pune, India. This research and design (R and D) center will be responsible for designing and developing the company's new generation of power MOSFETs and IGBT technology to support popular applications such as solar inverters, uninterruptible power supplies (UPS), automotive, lighting and ballast applications.

The Indian R and D design center is staffed by expert electrical engineers with extensive design experience and a thorough understanding of the requirements for power designs, in particular low-voltage power. The Pune location was chosen due to its close proximity to several excellent colleges and educational institutions that focus on engineering, and it is home to diverse research institutions that supplement higher education. In addition, Pune has a very strong presence in the automobile sector.

Fairchild offers the industry's most comprehensive portfolio of products, from 1W to >1200W to address the need for energy-efficient products. The dwindling supply of fuel and the emergence of new worldwide regulations and standards mandating energy-efficiency in a wide range of applications are driving this need for technologies that consume low power and conserve energy. Fairchild is focused on developing leading-edge products and solutions that drive the efficient use power in all electronic applications.
Community
Email This Article
Comment On This Article
Related Links
Fairchild Semiconductor
Powering The World in the 21st Century at Energy-Daily.com

EU industry shelving investments over emissions plans: association

Brussels (AFP) Feb 6, 2008

A growing number of European industrial groups are scrapping investments because of EU plans to make them pay for the right to emit greenhouse gases, an energy industry association said Wednesday.