EDF Energies Nouvelles Is Set To Launch Construction Of A 150 MW Wind Farm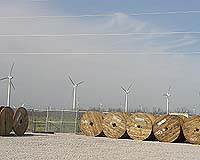 File image.
by Staff Writers

Paris, France (SPX) Apr 18, 2008

enXco, EDF Energies Nouvelles' US subsidiary, has obtained a permit from the authorities of the Solano County, California, to build a 150 MW wind farm. This new large-scale wind farm, owned by enXco, will strengthen EDF Energies Nouvelles Group's already strong presence in California. Located in Solano County, California, the Shiloh II project will be comprised of 75 turbines, each with 2 MW in capacity, supplied by German manufacturer REpower.

The project is backed by a 20-year power purchase agreement with US electricity company Pacific Gas and Electric. Construction of the facility is due to be completed in late 2008.

This 150 MW project represents a significant success for EDF Energies Nouvelles' Californian subsidiary. Following the 150 MW Shiloh I wind farm developed in 2005 for a third party, Shiloh II advances the Group's already strong presence in California, a state heavily committed to renewable energy. Shiloh II represents the 15th California wind farm to be owned by enXco increasing total gross capacity to 448 MW.
Community
Email This Article
Comment On This Article
Related Links
EDF Energies Nouvelles
Powering The World in the 21st Century at Energy-Daily.com

Success Of Wind Power Depends On Durability Of Turbines

Wilmington DE (SPX) Apr 18, 2008

Wind provided more electricity than several other alternative energy sources in 2007 -- approximately 1 percent of the global supply. By 2020, experts predict that wind will generate about 12 percent of world electricity needs, but the reliability of generating equipment is essential to the success of the rapidly growing wind power industry. DuPont is providing key solutions to the wind industry.